About Us
The Mosby Foundation was established in loving memory of Mosby, a Malamute - Husky mix who was intentionally shot and killed on August 8, 2003. His memory will live forever in our hearts.
Mission Statement
The Mosby Foundation is organized exclusively for charitable purposes to assist in the care for critically sick, injured, abused and neglected dogs through financial support and public education.
501(C)(3) Status
The Mosby Foundation has applied to the Internal Revenue Service for 501(C)(3) tax exempt status. As of 12-31-04, we are officially exempt by the Internal Revenue Service.
Mosby and Virginia Governor (Now Senator), Mark Warner
May, 2003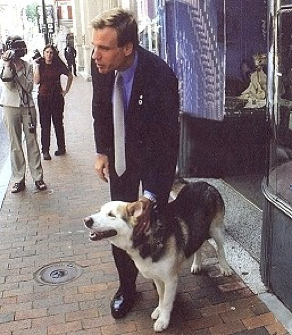 Executive Director
Sara Outler
Founder
Carole Adams
Board Officers
David Fitt, President
Stacy Reeder, DVM, Vice-President
Becky Lane, Secretary
Liz Pence, Treasurer
Board Members
Allen Persinger
Beverly Faulkenberry
Bridgett Beasley
Dan Bowman, CPA
Heather Leonard
Lisa Hartman
Michael Schaffer
Advisory Board
Deborah Armstrong, MD
Glendon Gill, Esq.